Today I will make a review on the Ico UBcoin a global mobile marketplace for buying and selling real world goods for cryptocurrency.
Presently tens of millions of people legitimately own cryptocurrencies hundreds of millions around the world are aware of cryptocurrencies and would like to obtain them many of you crypto as a means of investment with staining returns and others seek benefits of seamless digital transactions and new business opportunities afforded by blockchain technology.
Mass adoption of cryptocurrencies is inevitable and imminent consumers need simple fast and safe means of obtaining digital currency capitalization of cryptocurrencies fluctuates around 218 millions at the moment.
Yet the government banks and the dear national payment system around the world drag their feet in establishing Creole rules of regulating crypto transactions to enable low adding citizens buying and selling physical goods using the digital assets.
The goal of their company is to empower consumers around the world to invest in crypto and to enjoy the purchasing part of their crypto investment by creating an oblique coin digital marketplace where they can freely and securely buy and sell goods for cryptocurrency.
The way I see it the main issue they try to solve is that by creating an online marketplace from which you can buy and sell goods using just crypto you avoid the costly option to assault your crypto in fiat and then use the fear to buy in.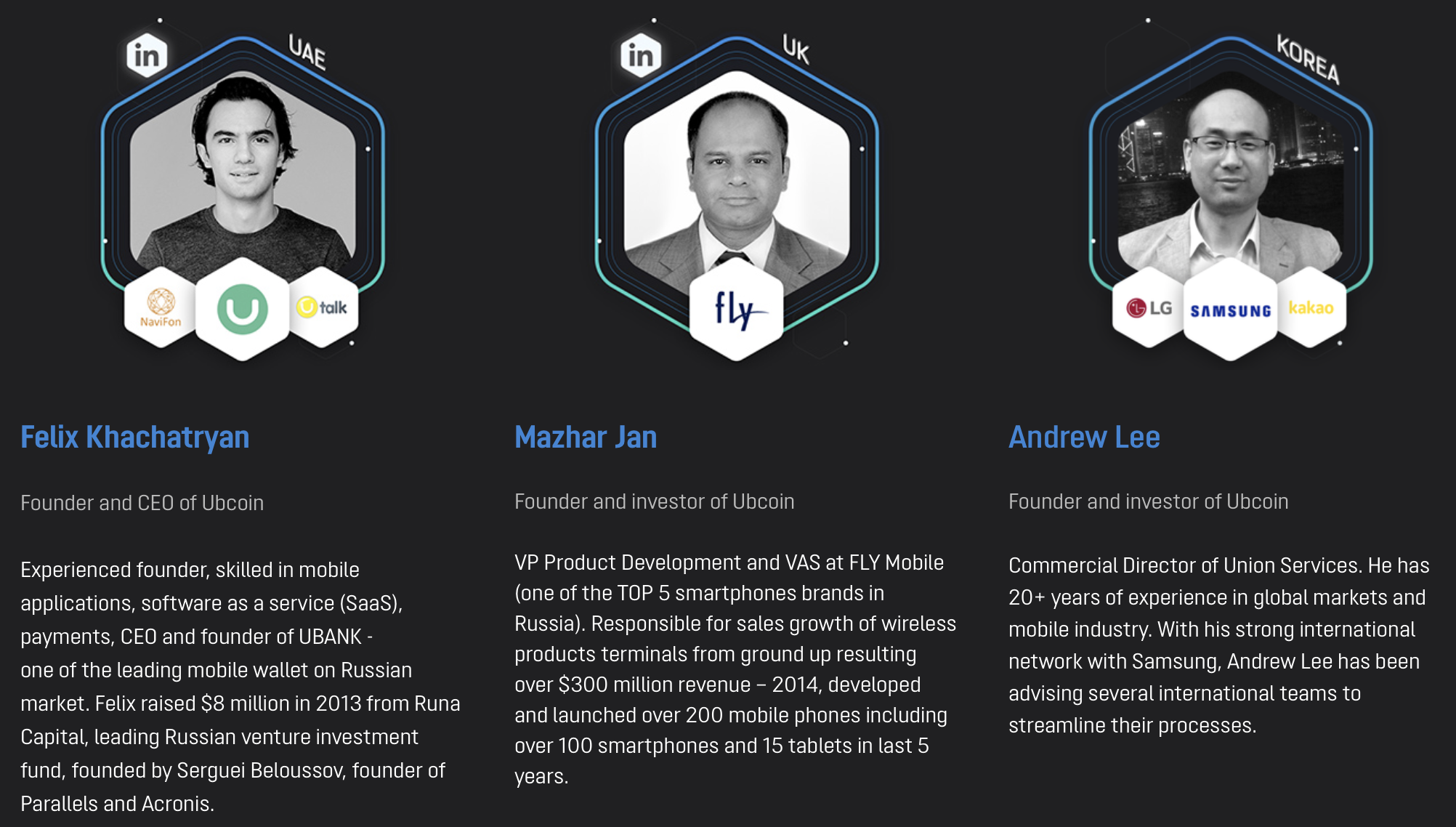 Pretty much any bay using only crypto let's see who's behind this ambitious project, their team consists six members and four advisers felix khachatryan is the founder and CEO Felix according to his bio provided in the website as an experienced founder skilled in mobile applications software as a service payments CEO and founder of ubank.
One of the leading mobile wallet on Russian market taking a look on his LinkedIn profile he founded ubank six years ago back in 2011 ubank is a company with more than 45 employees in it and UBcoin market it is its new strategic future.
According to LinkedIn Ewbank is a universal payment solution for smartphones user friendly secure and free of charges the number 2 mobile wallet on Russia market actually it is currently expanding more in Europe and works both in Android and iOS.
The team is missing developers but given the fact that is backed by ubank it seems that they have that covered in that case they need to let the potential investors to know about that because as of now only six members are listed here and that doesn't look that good.
When it comes to the platform you bank which is behind the you Ubcoin market has been operating for six years as mentioned before they already have the application for the App Store and Google Play as we can see the uBank application in Google store has more than 23,000 ratings and actually more than ten million downloads with an average of four stars which is okay.
but let's take a look on the description of the ubcoin app and the futures it will bring Ubcoin is a mobile application which brings together sellers and buyers in one convenient marketplace and facilitates payment in ubc cryptocurrencies the ubcoin application provides convenient research tools facilitates payments it regulates business relationship between buyer and seller using a set of smart contracts on ethereum blockchain.
The platform would utilize the development of the numerous tools for supply and rich information necessary for making decision in regard to buying or selling products specifically extensive and Konan rich product descriptions sellers and buyers rating reviews terms or sales and execution of smart contracts.
Ubcoin is not a new standalone application it is a new set of futures a logical next step in development of uBank a leading mobile payments application in Eastern Europe the new ubcoin futures of uBank application including the following product category screens product description screens Smart Search Engine with Rivlin targets based on search string geography product description user reviews and ratings and of course prices all based ends in for pre-screening user post product description visual and video content.
On the seller account management section then we can find easy to use tools for creating and managing sell posts tool for promoting and targeting posted ads ad stats terms of sale and payment management screens seller script of wallet review management screens and the CRM for the buyer account management section we can have saved the favorites in previous searches bio script of wallet purchasing history smart recommendations engine based on previous research and purchase history and of course purchase review management tool.
In their website there is a mock up that source of possible transactions in their application which one person buys an iPhone X using UBS tokens the whole process and the navigations to the application looks easy enough let's find out when we can expect the applications of Ubcoin market to be ready the Roadmap mobsters back in 2011 with the lands of Navi phone and mobile navigation application.
Through the years their lands utalk Ubank and treats more than 12 million downloads on their applications and that bring us to today in 2018 the battle smart conduct platforms were developed or will be developed the support and verification team will be formed there better testing of MVP through existing application distribution channel with leading smartphone manufacturers will be ready the MVP lands in Eastern Europe and the basically we see framework will be developed.
But we don't know when we can expect autumn 2018 has no milestones and that doesn't look good there are no dates specific on when we can expect on what to continue we can find the milestones in 2019 in the first quarter we can expect a full version of the application Lance in Eastern Europe also the open beta API will be developed on q2 they will Lance in Middle East and South Korea on q3 in Southeast Asia and South Asia and in 2/4 in Latin America so based in their roadmap the product will be ready in 9 months and then only in Eastern Europe.
The issue with this road not realize to the fact that that no milestones are presented for 2019 also it is not clear if they have achieved those milestones for 2018 or not overall the roadmap is below average.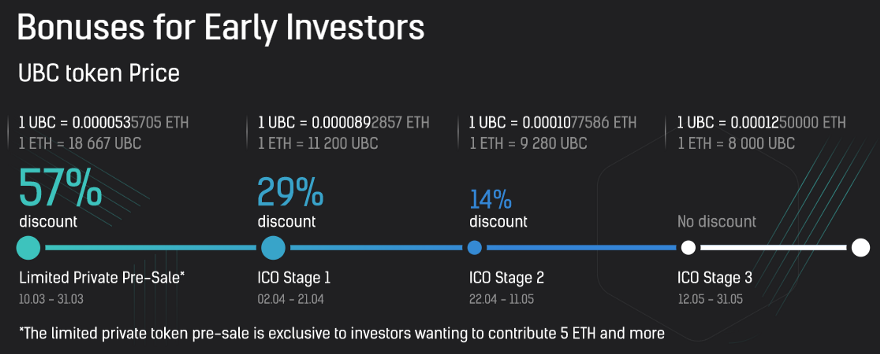 Down to price and talking distribution there will be a maximum of 4 billion UBC tokens 45% will go on sale 31 percent will be reserved for the pool 12 percent will be going to the team 5 percent on a limited private presale 4 percent to the bounty and advisers and 3 percent to the community rewards so as it seems 52 percent will end up to the public their token distribution can be deemed poor since it is far away from the ideal 80 to 20 percent when it comes to the price there are certain discount along the way at the moment for 1ETH we can get 11200 UBC tokens which brings the price to 3.3 cents given the current price of ETH.
On the last dates the price per UBC will be 4 point 75 cents now assuming an average price of 4 cents given that the price per day ETH over the next two months remains around $400 which is highly unlikely for the 45% of the top insult this can have a potential market cap of 72 million dollars which is extremely high not only for the current market but even for a good market for the entire hundred percent of the coin the total market cap will be if all coins are sold 160 million dollars.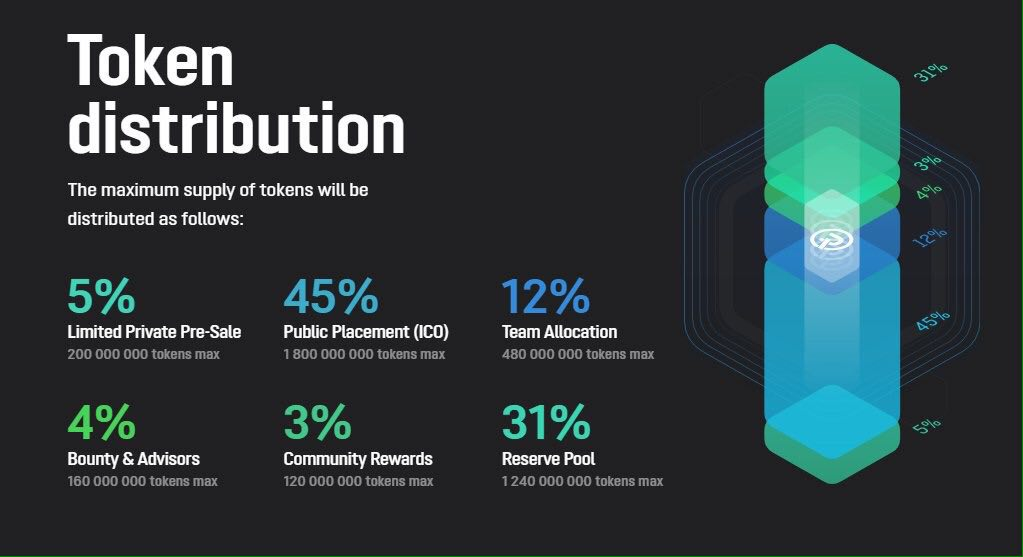 The price can be deemed extremely high the only positive thing is that it will burn any installed tokens in the equivalent percentage of the coins in the other categories well like every ICO they have both positive and negative aspects as always let's start with the positive ones the idea behind the project is good and most important the team has the knowledge and the ability to make it.
Since they have a proven working application in a similar field so the implementation looks quite possible on the other hand the roadmap lacks a lot of details for 2018 there's no milestones there is no dates or any indication of what and when to expect it also indents on 2019 companies should have a longer plant than two years the token distribution does not favor the public since only 52% will end up on their side and the price for the total amount of tokens can be deemed very expensive since if all coin sold the total market cap will be above 70 million dollars and that is only for the 45% of the token.
Thank you for reading please make sure you hit the Follow button for daily videos about crypto and don't forget this is only my personal view and at no point the financial advice so do your own research before investing have a great day.
Author Info :
Bitcointalk Username : Yogi21
Etherium Address : 0x91B50236DbFA5d3D4ded07c09Ddf31B987468781