Hi everybody today I'm going to talk about Bob'sr repair anyone that has hired in recent years for home repairs had faced three problems post information due to review fraud is a hidden cost due to advertising fees and inflated prices due to lack of pricing transparency.
These problems drink customers into making poor decisions investing money, here I would like to talk about the problems as the detailed first problem is review fraud due to review fraud consumers can no longer trust online reviews.
Review fraud happens in a number of ways companies artificially inflate their overall ratings by purchasing fake reviews and paying for the removal of negative reviews companies also artificially deflate the ratings of their competitors by purchasing fake negative reviews as a result consumers can no longer trust search listings such as local google recommendations home advisor and yet.
Without legitimate reviews, consumers cannot make educated choices which lead to hiring the contractor with the most advanced crowd practices as opposed to the best service and pricing.
The second one is advertising piece due to advertising fees consumers are paying too much for sickle trade services for instance on existing skilled trade service websites contractors will spend a significant amount of money on advertising contractors past these advertising costs on to the consumers which result in higher prices.
And another problem is pricing transparency due to a lack of pricing transparency consumers do not know the actual cost of the services they purchase which results in unfair pricing.
And now I would like to talk about the solutions which Bob repair brought to solve review fraud hidden costs due to advertising piece and inflated cost Lego pricing transparency Bob's repair will build the Bob application on the steam blockchain the Bob application will consist of a sophisticated iOS Android and web application.
The Bob application will leverage blockchain technology to fight real proud the Bob application will be built on the steam blockchain due to its three second trial section time and no transaction costs the Bob application do not have advertising from contractors as a result contractors will not pass on advertising cost to consumers contractors cannot buy visibility on Bob repair through advertising rather due to the functions of up voting flagging posts and user reputation on the steam blog chain visibility is governed by merits.
For instance, if a contractor has more verified positive reviews then that contractor will have a more significant presence this structure will eliminate hidden advertising costs the Bob application will have transparent pricing each review will provide the cost of service broken into the material and lower costs.

Consumers will be able to easily search reviews to determine the actual material and labor costs for a certain service this transparency will dry down prices and quite inflated costs and here I will give you some information about crowd sale, token sale 1ETH = 6000 Bob tokens deposit in Ethereum will be converted by the rate at the time of deposit according to the Krakken exchange PRE ICO bonuses 0 to 2000 Ethereum collectors 30% bonus 2000 to 3000 Ethereum collectors 25% bonus 3000 to 4000 Ethereum collected 20% bonus 4500 to 6000 Ethereum collectors 20% bonus hard cap is 30,000 Ethereum.
PRE ICO started on 4th of January 2018 PRE ICO ends 4th February 2018 after the PRE ICO and ICO end token will be distributed like this 50% of outstanding Bob tokens to crowd sale purchasers 20% of outstanding Bob tokens management team 10% of outstanding Bob tokens as legal 20% of outstanding Bob tokens as reserved.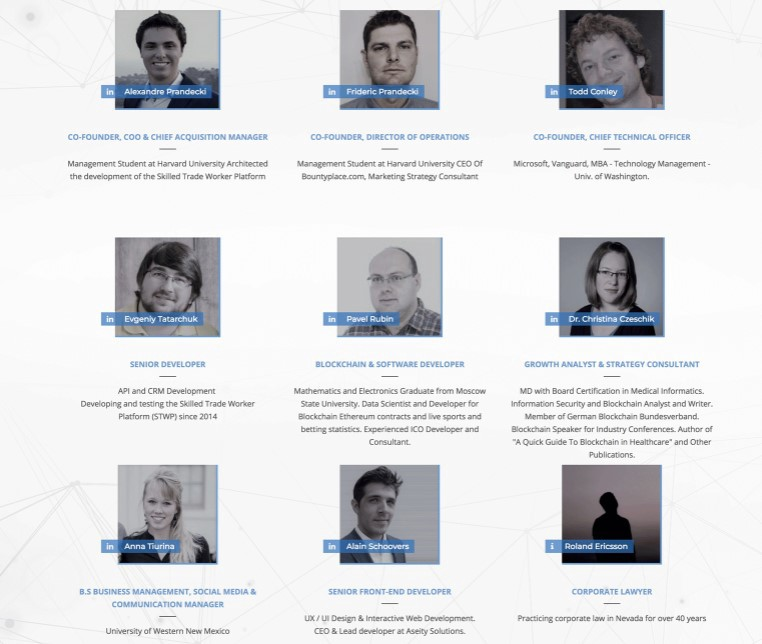 Bob has a very successful team one of them is Frideric Prandecki he's co-founder and CEO Frederick is a graduate level management student at Harvard University he completed his bachelor's degree from North Carolina State University Frideric is a serial entrepreneur with experience in management and ownership of enterprise operations.
Alexander Prandecki he's also co-founder and COO Alexander is a graduate level management student at Harvard University he previously raised our $200,000 and developed a smartphone application for university students which launched in the Apple and Google Play application stores Alexander has extensive experience working abroad in teams with diverse linguistic and cultural backgrounds.
Todd Conley, Todd is a co-founder and CTO Bob repair he's the former Microsoft program manager and system engineer and has an MBA in technology management from the University of Washington, Todd has experience developing cloud-based systems for sports healthcare real estate and home repair verticals.
Evgeniy Tatarchuk, Evgeniy is responsible for proprietary API and CRM developments he has worked on a development testing obstacle trade worker platform since 2014.
Pavel Rubin, Pavel is a mathematics and electronics graduate from Moscow State University he is a data scientist and developer for blockchain he has experience design and developing Ethereum contracts and is an experienced ico developer and consultant.
Dr. Christina Czeschik market crowd analyzed and strategy consultant Dr. Christina Czeschik is an end with board certification in medical informatics she has experience in information security and as a blockchain analyst and writer she is a member of the German blockchain bond as verb and has been a blockchain speaker for industry conferences and is the author of a quick guide to blockchain in healthcare.
Author Info :