Hello guys and welcome to YPramedia in this article I would like to present you the BeEasy ICO this is a blockchain ecosystem designed for mining trading and managing cryptocurrency investments.
Before we get more into details I would like to invite all of you to Follow YPramedia and also to leave a vote for this article if you find it helpful.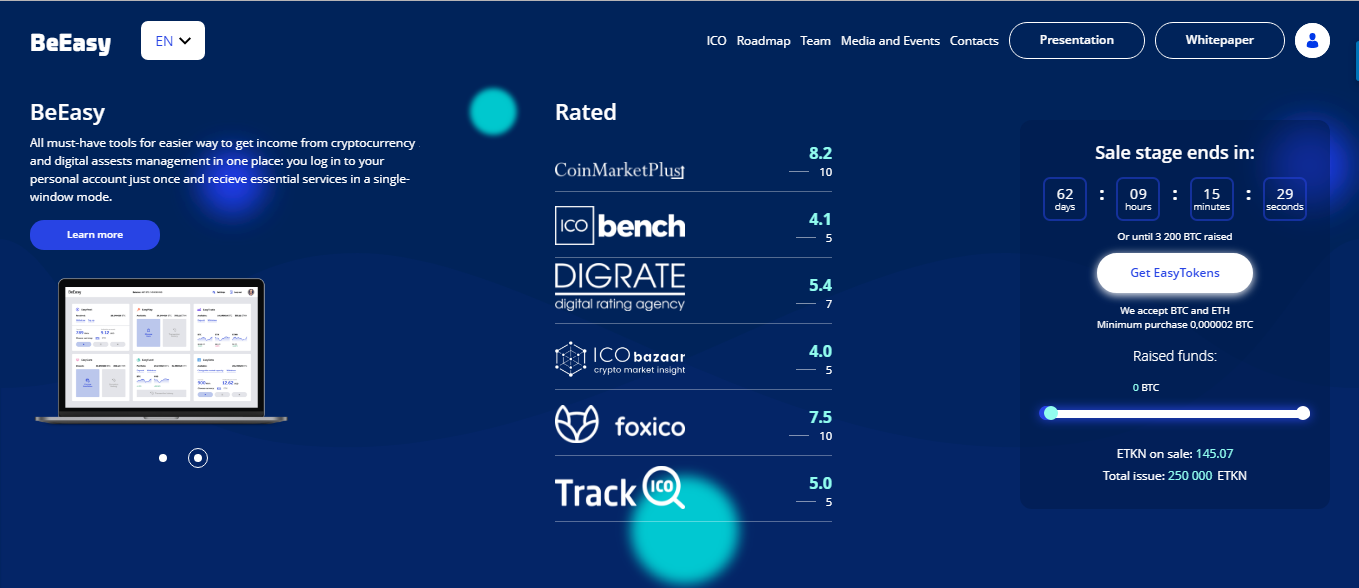 So BeEasy makes the world of cryptocurrency more clear and available to any user regardless of their skill levels it is rich due to the development of clear interfaces and flexible management system by the most demanded services mining, conversion, trading, purchase of goods and services, investments, assignments, on charity, and so on with the help of one Windows system the user authorized at once can use all system services from rental capacities for remaining till receiving goods for cryptocurrency and services from partners of the project.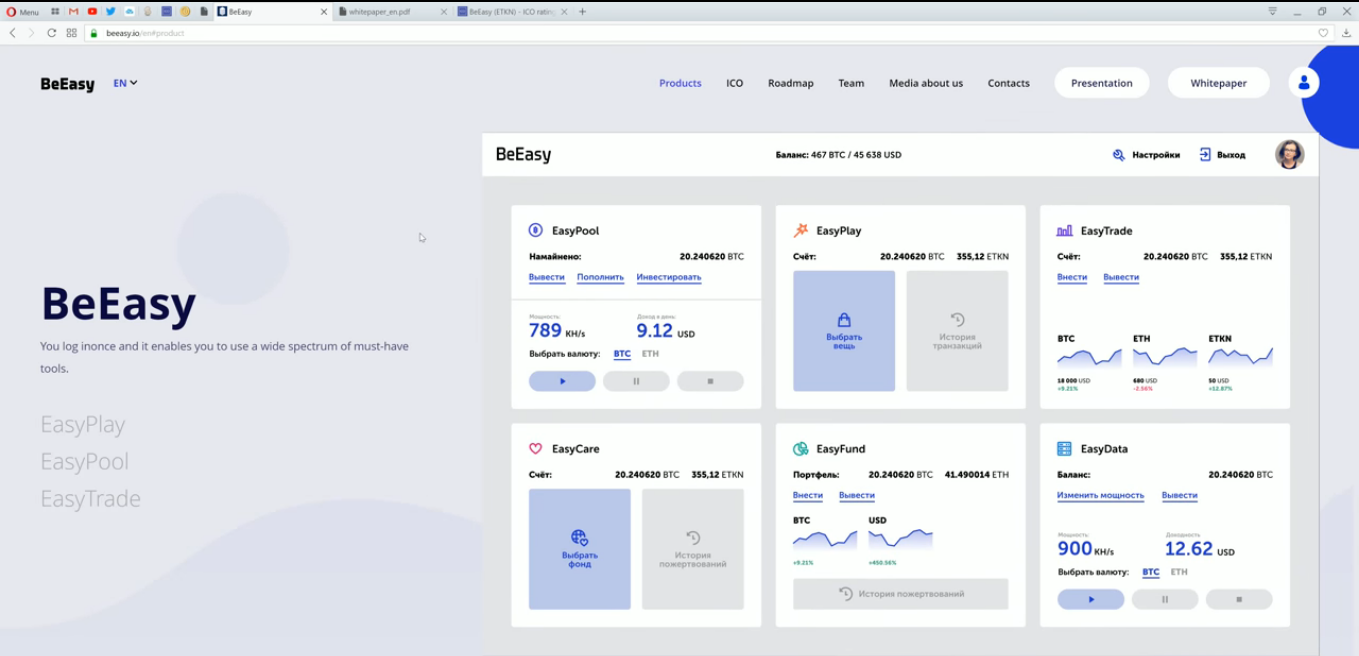 The service is a unique amalgam of all bez brand design modules basically guys this BeEasy idea has a lot of products and for example BeEasy pull this indicates the wallet current balance deposited through mining from a poll features shortcuts the process control and provides a link to one expanded the easy pull interface.
The easy play displays a grade of bonuses provided by the project partner vendors allowing you to spend cryptocurrency from your balance what's more you can easily calculate the mining timeline for accessing a specific bonus review the list of a quiet bonuses and more into your progress bar easy care is your guide to the list of partner charity foundations and you can set up for charity donation to be sent from your balance and later track the transaction.
the ecosystem allow to donate a specific percentage of your internal operations the service empowers you to make regular recurring donations deducted from your balance to a foundation of your choice.
the easy trade that displays the balance of the exchange account most recent transaction history statistics generate whether one is a click you can initiate the exchange transactions the link to the actual easy trade exchange is also available to the interface is the fund contains the invested amounts indicator and the current earning power for Bitcoin, Ethereum and Fiat
You can access there are access buttons for investment deposits and for applying to withdraw easy fan indicates the current state status of portfolios is the data is a platform containing information on rented mining hash power in the amount of received cryptocurrency.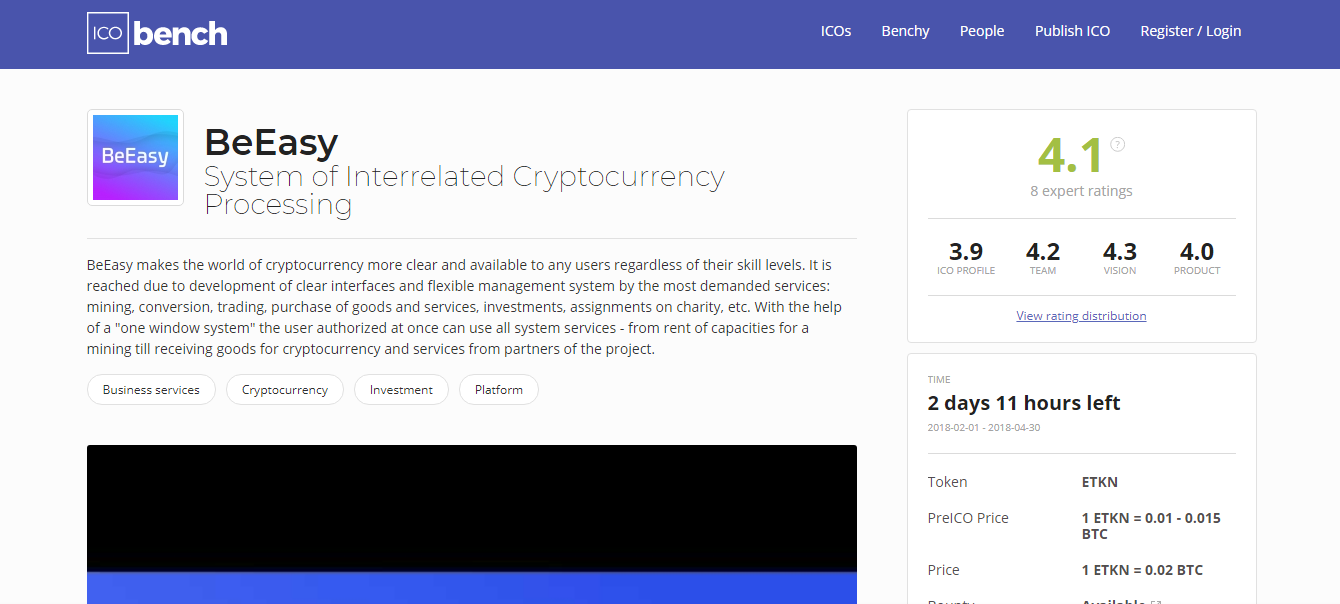 It allows you to modify the amount of rented power and gives you access to profitability calculator and mining process monitoring, when it comes about the ratings of gas on the ico bench profile they got some extremely high maximum 14 vision and product this ICO comes from Cyprus and it's restricted to USA and a Singapore participant.
It's going to have a no your customary verification process where you won't have to provide your idea in the picture with which your utility bill in order to prove your residence they accept Bitcoin an Ethereum as payment the price depends varies for example with 0.02 Bitcoin that's around $200 $160 per token guys.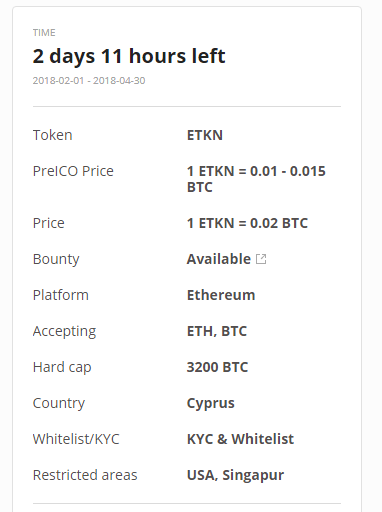 And as you can see right now they sold 25,000 tokens and they collect 146 tokens there is a total issue of two honey 50 tokens guys the ico goes from 1st of February to 30th of April and if you wish to participate I'm gonna leave some links in the bellow where you can check out more about this project and ultimately designed that if you wish to participate or not do your own research do your own due diligence guys and based on your own decision and the facts that you have at your disposal decide if you should invest or not in this ICO thank you for Reading and make sure to Follow.
Author Info :